So I have been looking at the banner just about everyday when I drive to work stating that there's a new shop in town serving fish-head noodle. One day, my colleagues decided to have lunch there. Wei Yip is located somewhere in the middle of Aman Suria.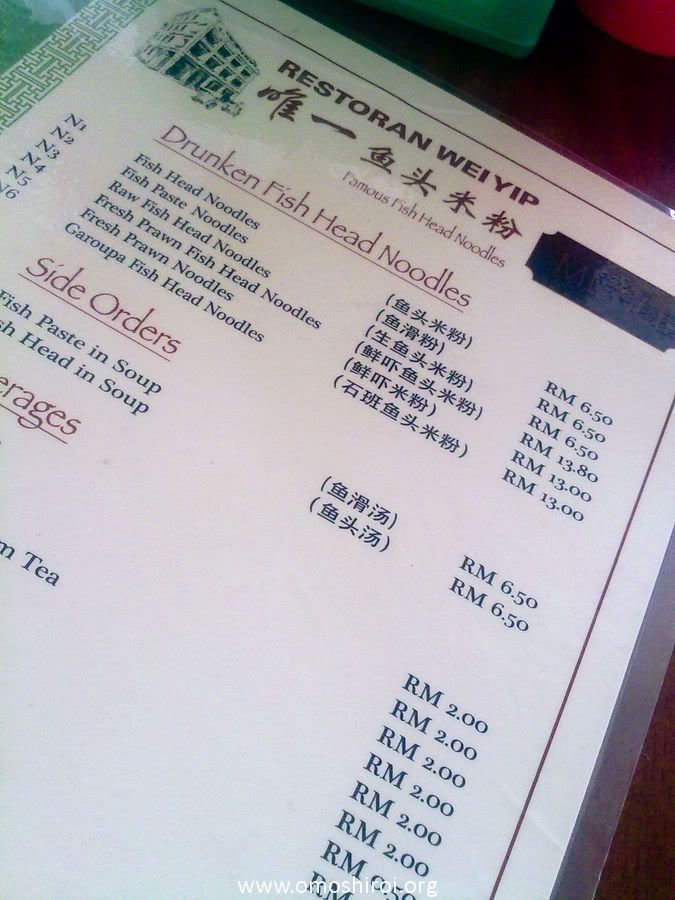 On the first step you walk into the shop, you could smell the strong fragrance of the liquor(fah-kew zhou; not to be confused with a vulgar word). I suppose that could be a good thing(since it's specifically stated
drunken
fish head noodles). We ordered 3 varieties; fish head noodles, fish paste noodles and garoupa fish head noodles.
It didn't take too long for them to prepare the noodles. Taste wise for me it was nice, I loved the fragrance of the liquor in the soup mixed with the sour-ish taste from the tomato and the
smoothness
(not very smooth) of milk added together. Though I must say, the amount of fish meat(they gave me more fish head bones than the meat) given was quite little and you may be better off with fish paste instead. Overall, good stuff for me.
Address:


No.32 A-1,

Jalan

PJU

1/3D,


Sunway

Mas Commercial Centre,
47301

Petaling

Jaya

,


Selangor

Darul

Ehsan

,
Malaysia.



Contact:


Telephone number: 03-7880 3173
Email: weiyip@nanoworld.com.my



Opening hours:


Open daily:
Lunch: 11am-3pm.
Dinner: 6pm-10pm.