A friend of mine planned to have lunch at Canton-i, but he never made it as he had to leave for studies as his holidays are over. So, we planned again, and this time I went with Sapphira and Ooity.
Canton-i is located on the ground floor of 1Utama, just beside
Dave's Pizza Pasta Vino
, and opposite TGI Friday's. Upon arrival, we actually had to queue outside as it was already full (12.30pm and already so many people x_x). Though it didn't take long for us to get in, we enjoyed watching the chef cooking stuff and slicing meat at the glass kitchen. The waiter showed us our table and we sat down and read the menu. Ordering food here is very much like Kim Gary, you are given a piece of paper catalog on it, and you just have to scribe down what ever you want to eat. When you are done, just flag a waiter/waitress and have him/her pick up your order. They will re-confirm your order and then you'll just wait for your food/drinks to arrive.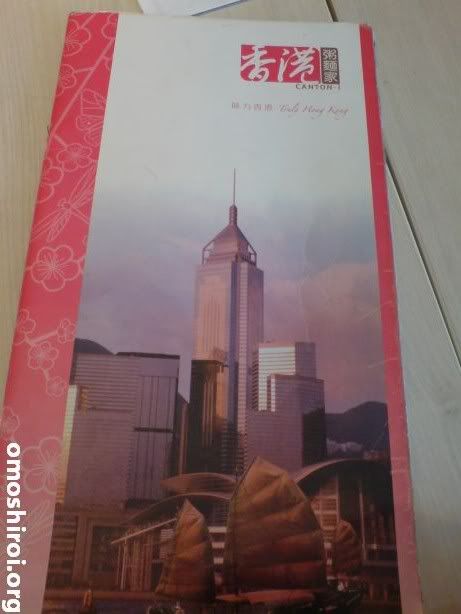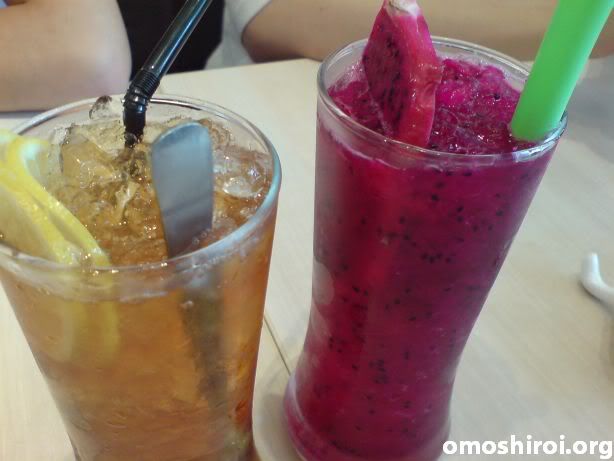 Hong Kong styled Ice Lemon Tea; Canton-i Dragon Fruit drink.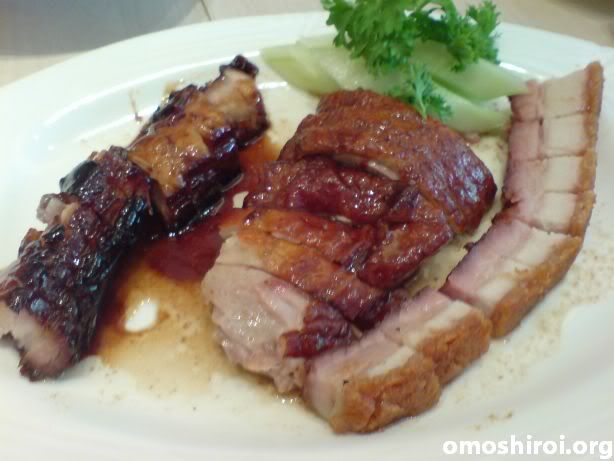 3 combo plate - bbq pork, roasted duck, roasted pork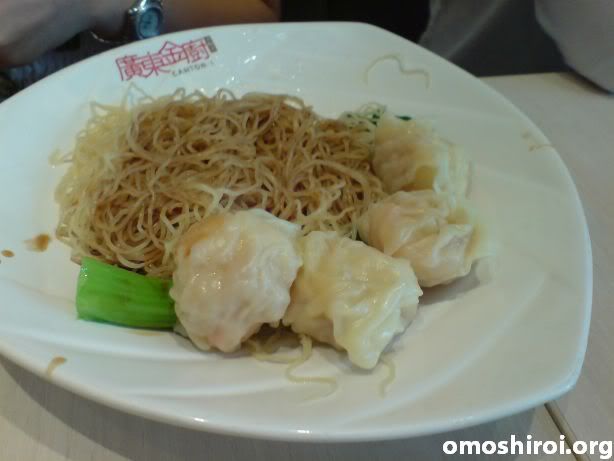 Canton-i speciality: Shrimp Wan tan mee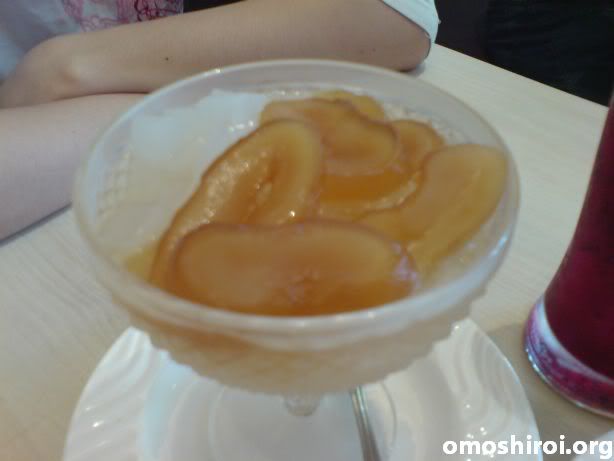 White fungus and sea coconut dessert
Tau foo fa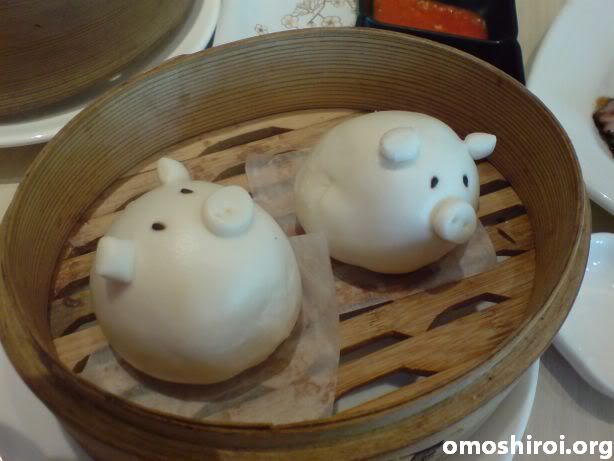 Piggy Bun(red bean stuffed)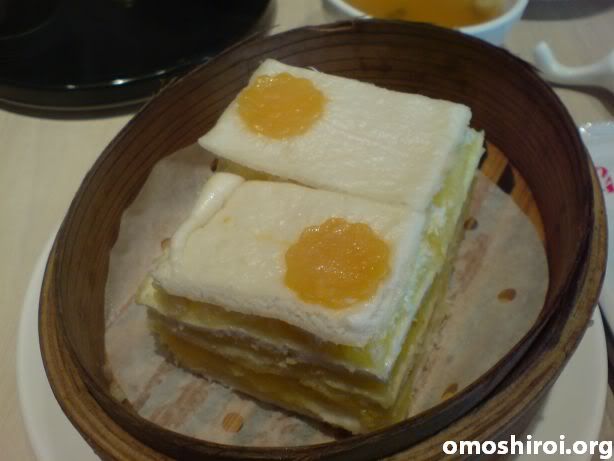 Egg custard cake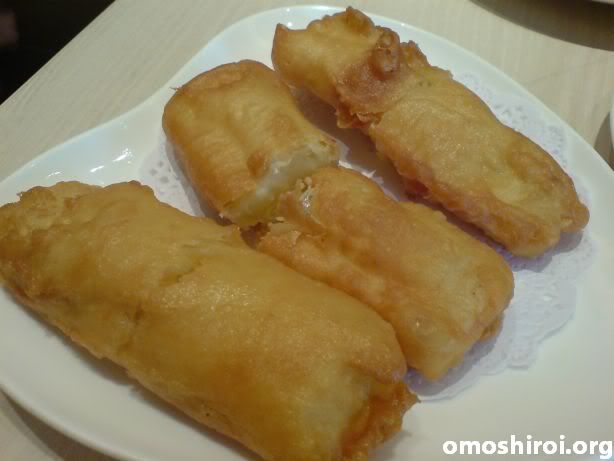 Durian pancake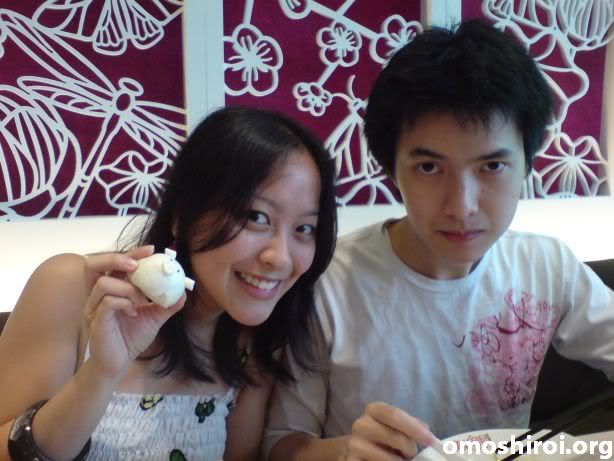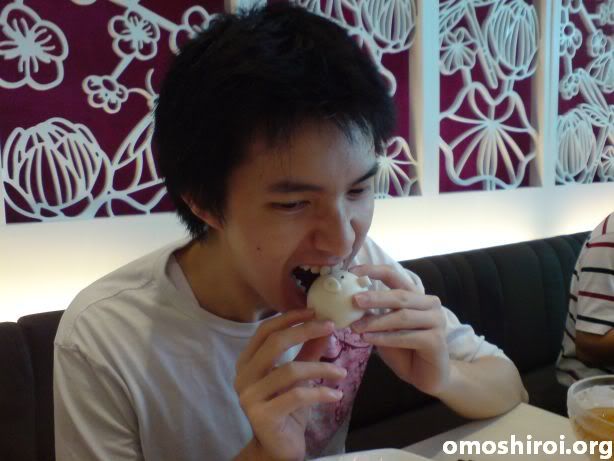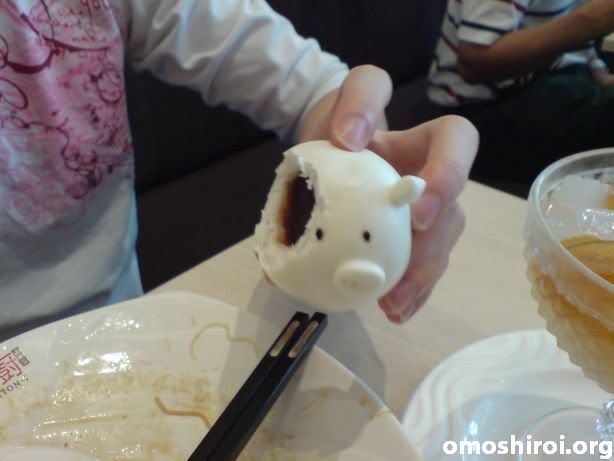 moments before cute 'lil piggy bun gets devoured
Apparently, the piggy bun was so cute that we had to order one. It's not pork bun, but it is stuffed with red bean filling and it's quite good. My first impression on the durian pancake was, "Did we order yau char kwai?"; which in turn actually turned out to be the durian pancake. It was great, I loved it as they put real durian flesh in it, and not some artificial flavouring and stuff like that. Ooity didn't like it as he was not fond of durian. Durian lovers will enjoy this dish. The wan tan mee was done well, the noodles are springy as they should be, no idea on the wan tan however(cause I can't eat seafood) but Sapphira commented it was not too bad. The combo plate was probably the best, hong kong styled bbq/roasted meat does taste a little different from what is normally prepared locally. The skin is a little more on the crispier side, and I thoroughly enjoy the bbq pork.
Egg custard cake was alright. Fresh from the steamer, it is quite fluffy and not too sweet either. Tau foo fa is exactly what you would have outside, with the exception that they use ginger based syrup which makes it more aromatic('hiong'). The white fungus + sea coconut dessert was quite good too, as they used crysantheneum base which is also nice to smell and taste. The iced lemon tea was nothing too special. I suppose Hong Kong styled refers to the type of tea they used. No comments on the Dragon Fruit drink, but apparently it's just like dragon fruit blended with ice which is nothing too special.
Great food, nice environment; a must visit if you haven't been here before. Also, if you REALLY love this place, you may also opt to purchase their menu as a sourvenier for only
RM500
. No, I'm not kidding, they really wrote that in the menu (refer to the back page of the menu).
Canton-i (Non-halal)


G-208, Second Floor
1 Utama Shopping Centre
Bandar Utama
Petaling Jaya

Tel No:

03- 77297888