After having shopped for my new bed from Ikea last week, my mom and I went around the mall to look for a place to have lunch. There we stumbled across this outlet serving personal sized steamboats.We decided to have lunch here since the weather was oddly cold(raining the whole day) and steamboat would warm us up.
They have quite alot of sets ranging from personal steamboat to cook yourself noodle sets to ala carte(small items, like fishball) orders. I had lamb noodles set and my mom had personal steamboat set. The soup of choice were either chicken soup or tom yam. There is also curry, but it seems you can only order that with the curry set.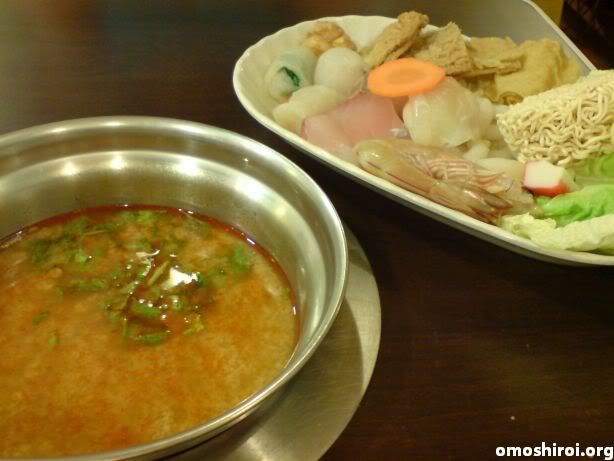 Personal Steamboat: Tom yam soup and a range of items to go with it.
Food here was decent. They managed to slice the lamb meat so thin that once you dip it in the hot soup it would be cooked almost instantly. My set also came with some fishballs and beancurd skin aside from the lamb meat and noodles. My mom's one is loaded with a large variety of steamboat items and is quite worth it. Total bill came to about RM30.00 with drinks(cold chinese tea and herbal tea).

Ketam Village Steamboat,
Lower Ground,
Ikano Power Center,
Mutiara Damansara.